With its chocolate box villages, forest walks, and cosy winter pubs with roaring fires and the best of British cuisine, Suffolk is an idyllic place to spend some time over the festive period. But as the countdown to Christmas begins, we know that families of all ages are seeking a mix of wholesome attractions and Christmas events – including markets, visits to Santa, and at least a few places where they can find a mulled wine (or two!)
Without further ado, here are some of the best events and Christmas markets happening in Suffolk over the coming weeks.
Christmas Markets in Suffolk
Bury St Edmunds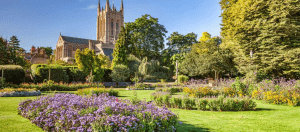 In a move to make the festive Christmas market more accessible than ever, Bury St Edmunds has announced that its 2022 market will be contained around the Arc Shopping Centre, with a series of semi-permanent cabin stalls which will be open until Christmas.
Suffolk Farmers Market
This event takes place all year round, however the 10th of December will see the usual farmer's market taking on a more festive feel. 60 of the regions producers will come together at Trinity Park in Ipswich, alongside some other Christmas visitors and surprises. A great place to stock up on ingredients, foodie gifts, and more.
Festive Events in Suffolk
Jimmy's Farm 
There are a number of places across Suffolk where you can find Santa this year, however Jimmy's Farm is a family favourite – as it offers a Santa Visit or Breakfast with Santa experience which combines magic and festive fun for adults and children. The grotto visit is £10 per child and free for adults, while the breakfast experience is £25 for children and £30 for adults.
Illuminated Garden Trail
What better way to see in the festive season than with a warm mulled wine and a walk around one of Suffolk's most popular gardens – complete with twinkling lights, toasted marshmallows, and even a mini Christmas market. This is an attraction you can enjoy at your own pace, making it great for families with children or couples planning a fun date night.
Other festive events to look out for…
Sudbury Christmas Window Trail: adding extra charm to the already popular town of Sudbury, this initiative sees small businesses along the high street engage in creating their own window displays to celebrate Christmas – which visitors and passers-by can vote for to decide their favourite. A free, fun, and inspirational attraction which might just inspire you to add a little extra décor to your own home and window this season.
Pantomimes! Yes, it's panto season and across Suffolk there are a range of family performances taking place, from Peter Pan at the Ipswich Regent Theatre to Cinderella at the Spa Pavilion. Look up your local performance for a fun and interactive night out.
Your Idyllic Festive Break
With so much to see and do in Suffolk this Christmas, you'll need more than a day trip to get through it all. Why not treat yourself to something a little bit special, with an Idyllic Cottages holiday cottage or private retreat to enjoy with the family.
Browse our locations and available cottages on our website.