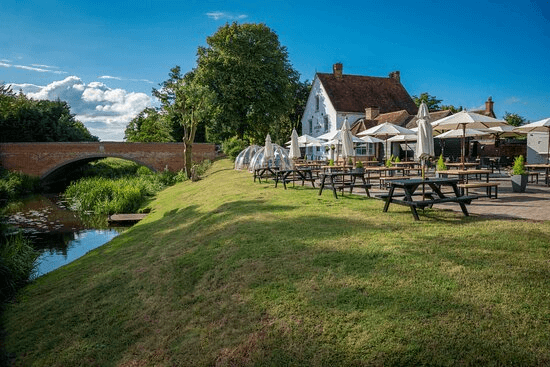 Anchor Inn, Nayland
www.anchornayland.co.uk/bookings
Telephone – 01206 262313
The Anchor, Nayland Perching on the banks of the River Stour, tucked away in the picturesque village of Nayland, sits The Anchor Inn, a charming country inn and restaurant serving traditional British cuisine with a twist. With a rich and colourful past The Anchor Inn is steeped in history and is reputed to be the last remaining place from where the press gangs recruited their volunteers.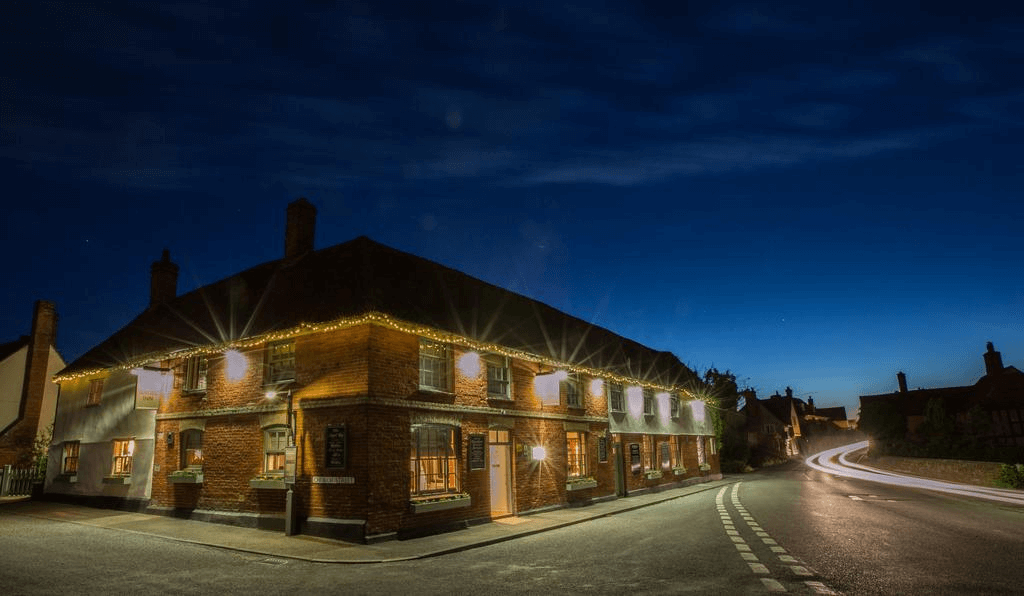 Angel, Stoke-By-Nayland
www.theangelinnsuffolk.co.uk
Telephone – 01206 263245
Packed full of character, The Angel Inn is a traditional Grade II 16th century Suffolk coaching inn with open fires, original brickwork and oak beams. A typical 'Old English' country pub offering fantastic food in a stunning setting. A relaxing and friendly atmosphere complete with regional cask ales, wines from around the world and gin and whiskey bar; the Angel is everything you would expect of a traditional English pub.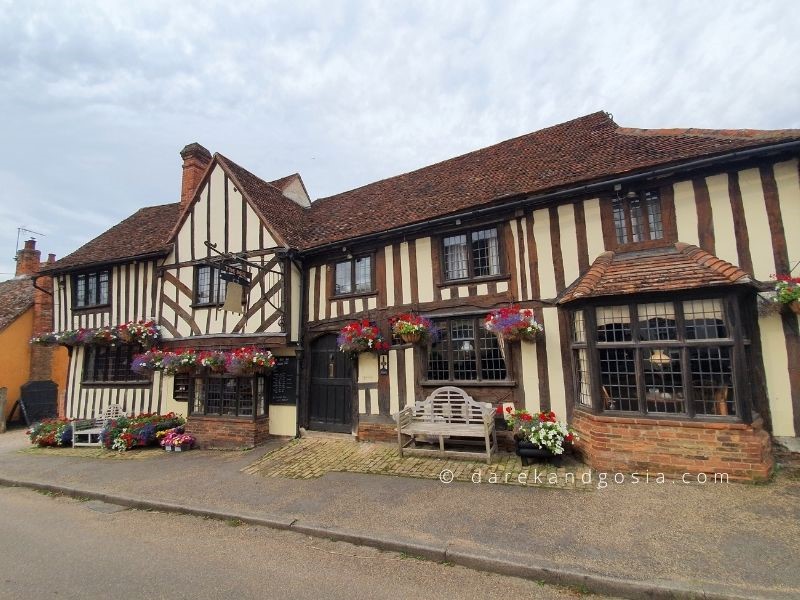 Bell Inn, Kersey
www.thebellkersey.co.uk
Telephone – 01473 823 229
Kersey is widely regarded as one of Suffolk's prettiest villages being positioned on the steep hills either side of 'The Splash' which is a ford across a tributary of the River Brett. The Bell is the beating heart of the village being a traditional and timeless Suffolk country pub with great Ales, good honest grub and a West facing beer garden.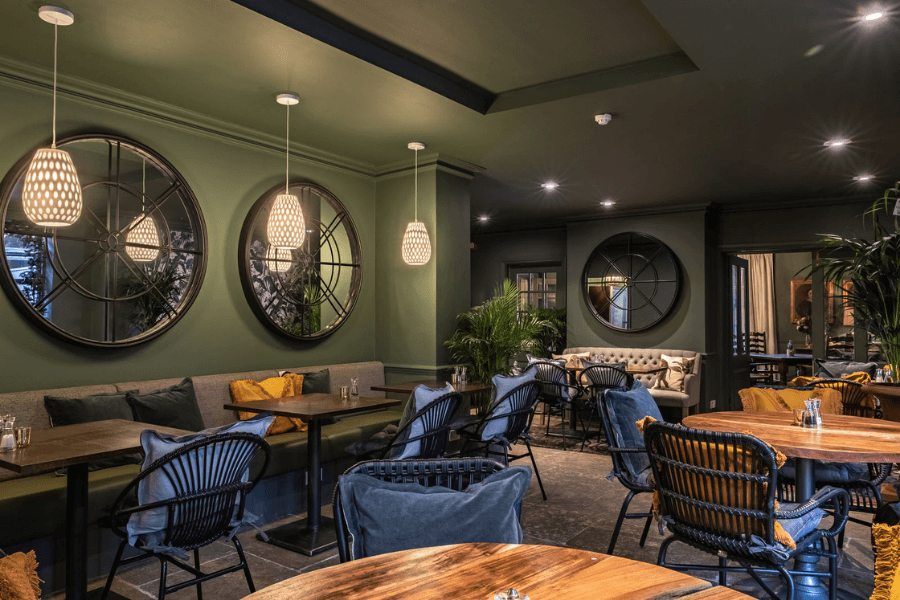 Black Lion, Long Melford
www.theblacklionlongmelford.com
Telephone – 01787 312356
Their Head Chef crafts menus with a thoughtful approach to regional produce while creating dishes that appeal to wide selection of tastes. From gluten free, plant-based, or meat-loving, the attention to detail is unsurpassed. They also stock a diverse wine list, range of beer and seasonal mocktails and cocktails and all set in a lush and sophisticated interior designed restaurant and bar.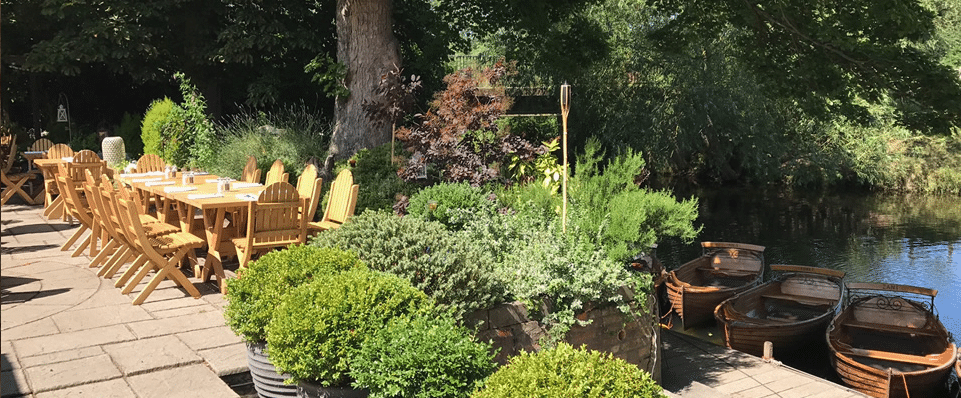 Boathouse Restaurant, Dedham
www.dedhamboathouse.com
Telephone – 01206 323153
Dedham Boathouse has catered for many generations of locals and visitors over the years, as the place to hire a rowing boat or enjoy an ice cream down by the river. Many changes have been made since the restaurant was expanded. A bar was built, a completely new kitchen added, along with gas central heating in 2002. There are few nicer places in the locality on a sunny afternoon.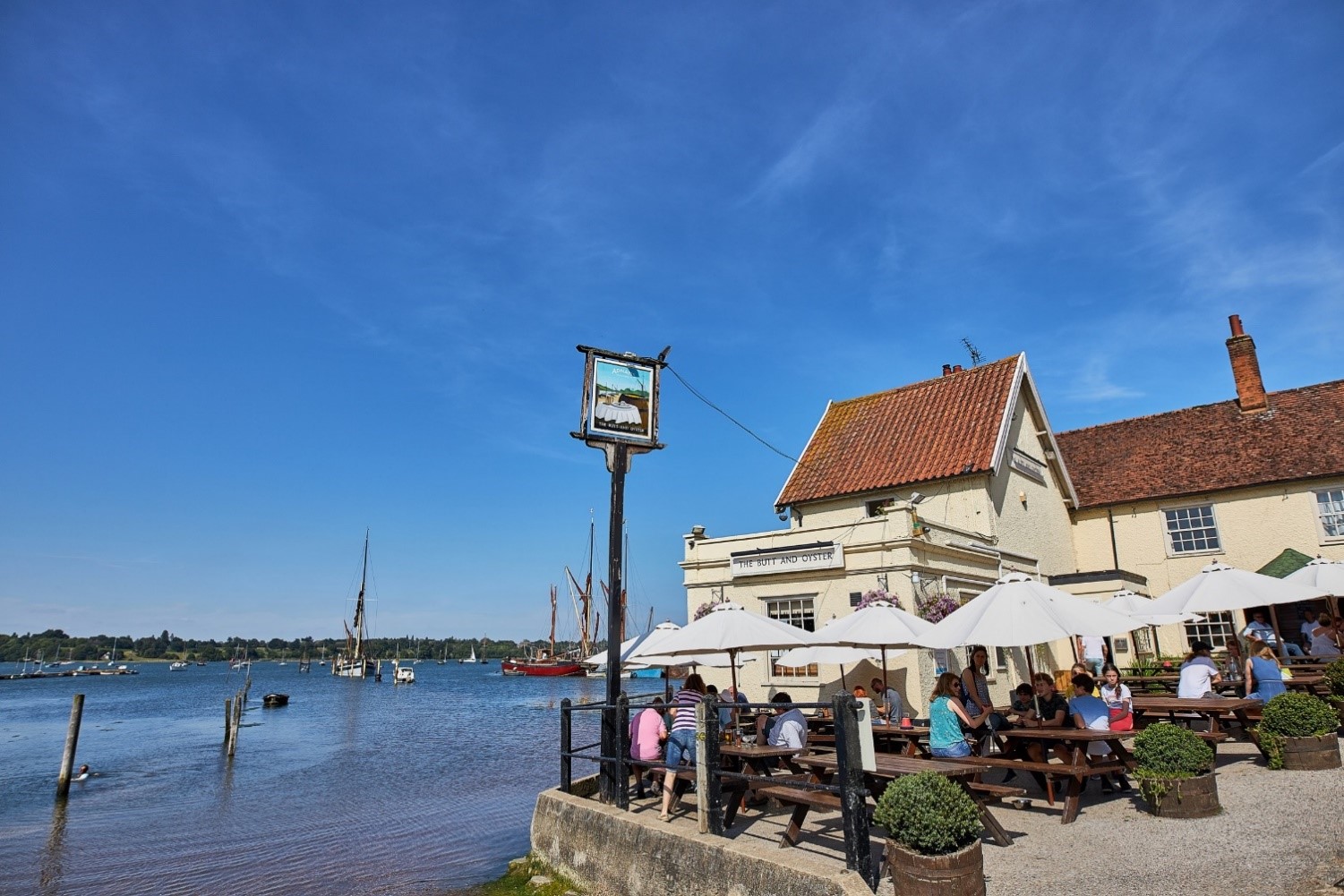 Butt & Oyster, Pin Mill
www.debeninns.co.uk/buttandoyster
Telephone – 01473 780764
This pub is a little bit further away, though well worth the journey as its location on the water front is one of Suffolk's prettiest estuary locations on the Orwell. Make a day of it by going for a stunning walk on the Shotley Peninsula and then indulge in some award winning family dining, beer quality and customer service.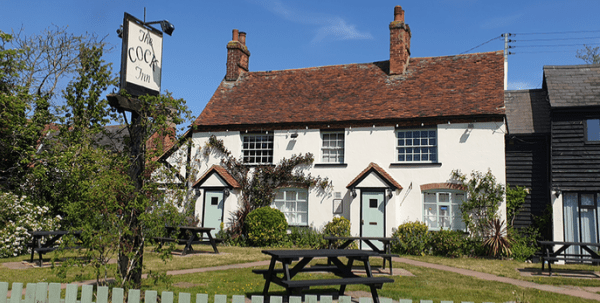 The Cock Inn, Polstead
www.thecockinnpolstead.co.uk
Telephone – 01206 263150
The Cock Inn is a traditional grade 11 17th Century rural pub in a gorgeous setting in the middle of a pretty village and is a great base for walks. Alfresco in the summer months in a large beer garden or in front of the roaring log fires in the winter months. By comparison to the local competitors, this isn't really known as a foodie pub and the service is very much dependent on which side of the bed it got out of!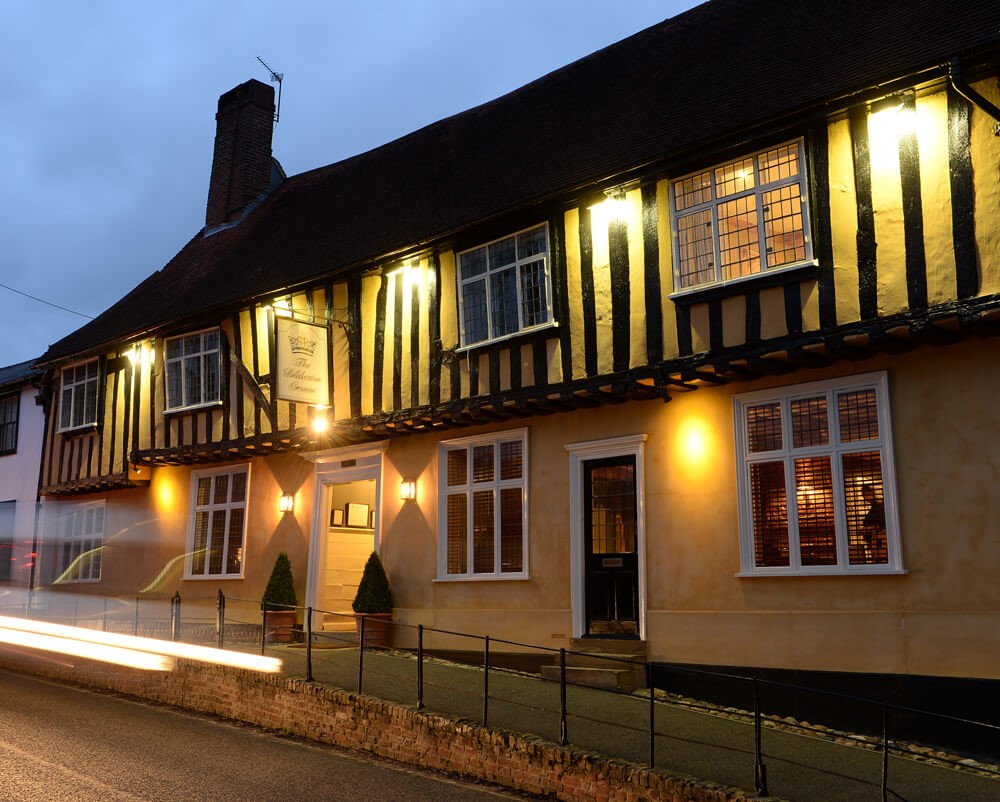 Crown, Bildeston
www.thebildestoncrown.com
Telephone – 01449 740510
When Chris and Hayley Lee came to The Crown in 2003 at the invitation of James Buckle, the owner, they were smitten and haven't left and are running it still. Dating back to 1495 when it was initially a merchant's house it then morphed into a coaching inn. Sometimes referred to as a Tardis, there is so much more inside than initially meets the eye including quality food and drink.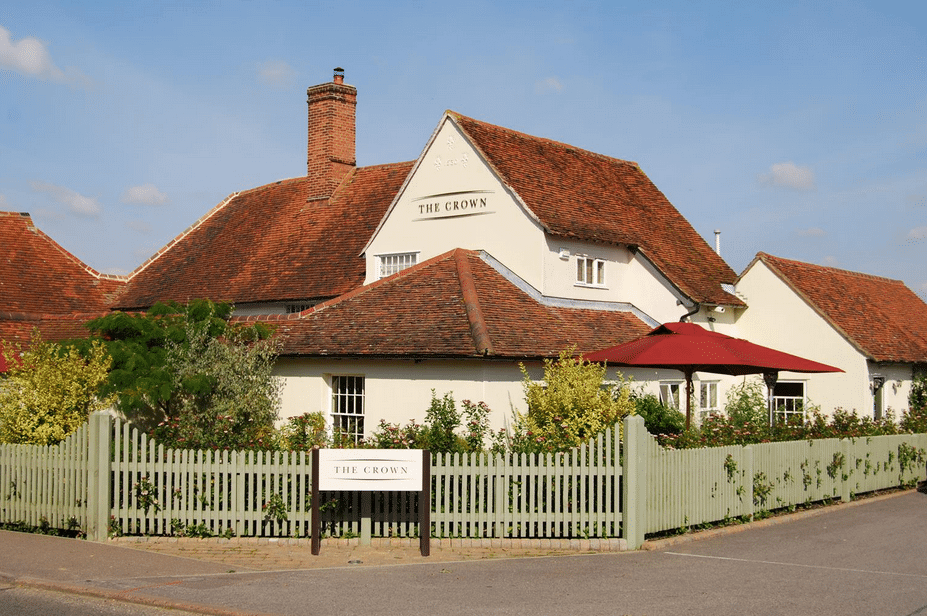 Crown, Stoke-by-Nayland
www.crowninn.net
Telephone – 01206 262 001
Stoke-by-Nayland is a delightfully pretty Suffolk village with a vast wool church in its midst, well worth a look followed by a visit to the now famous Crown Inn, a traditional village pub and with a beautiful boutique hotel. A reputation built from a commitment to provide friendly service via well trained staff, delicious food, wine and real ales.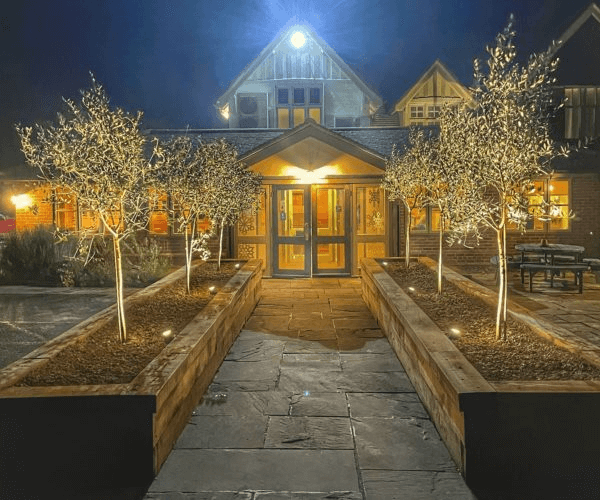 Fox, Bulmer Tye
www.thefoxbulmertye.co.uk
Telephone – 01787 275727
Part of the independent Gusto Pronto family who are committed to serving great food and drink with buckets of attentive customer service. The team apply a strong focus to quality, seasonal produce that is mainly sourced locally. Having a small menu that changes every two weeks means the dishes that make the cut are interesting and taste bud tinglers. They also brew their own beer at their craft brewery, Brewshed, near Bury St Edmunds.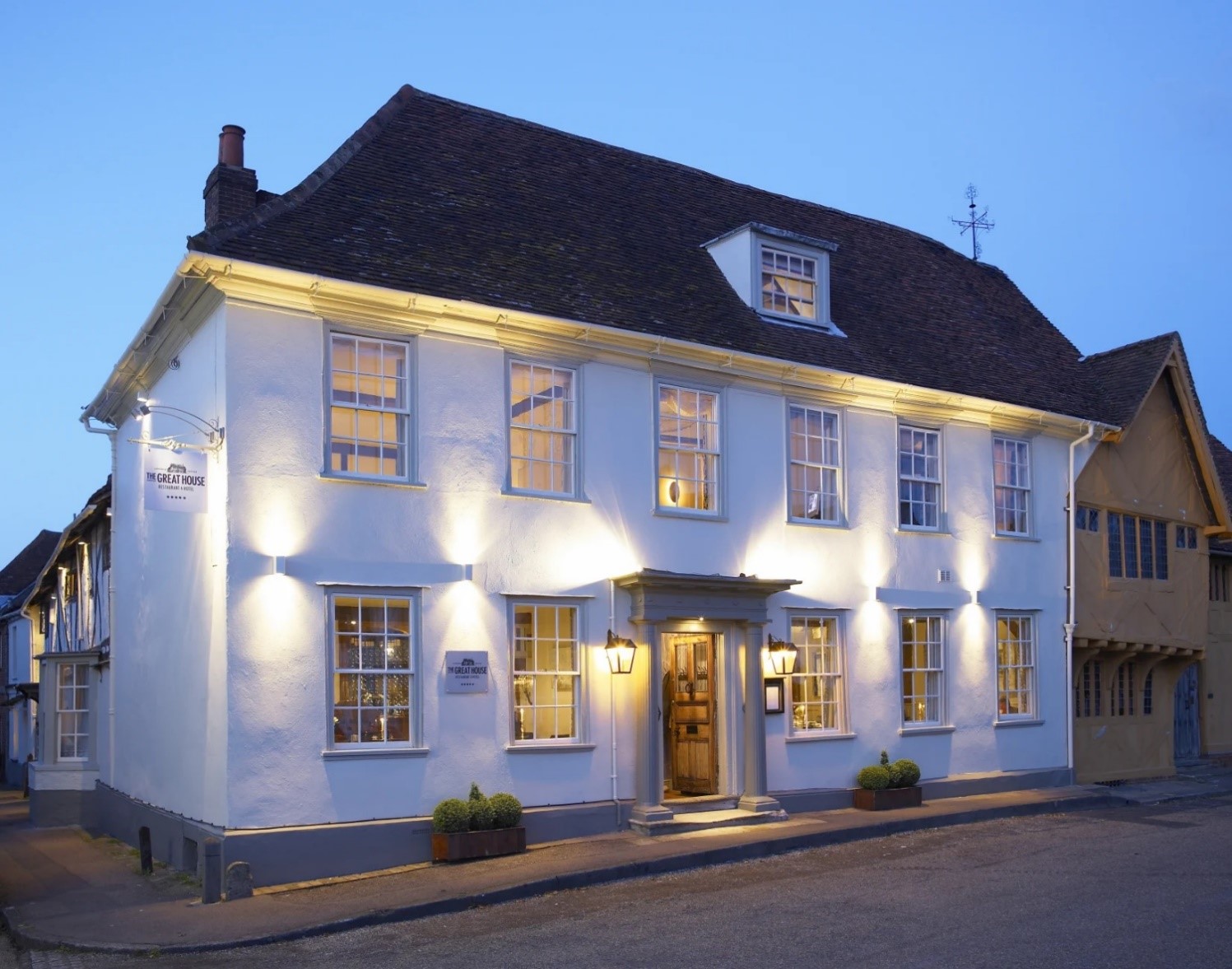 Great House, Lavenham
www.greathouse.co.uk
Telephone – 01787 247431
This is no local pub. The Great House is one of the best restaurants in the area and takes its food extremely seriously. Their approach to food is framed by a philosophy of 'Colour, Balance and Contrast'. They offer an exquisite dining experience in a classic country house in the heart of England's best preserved Medieval village.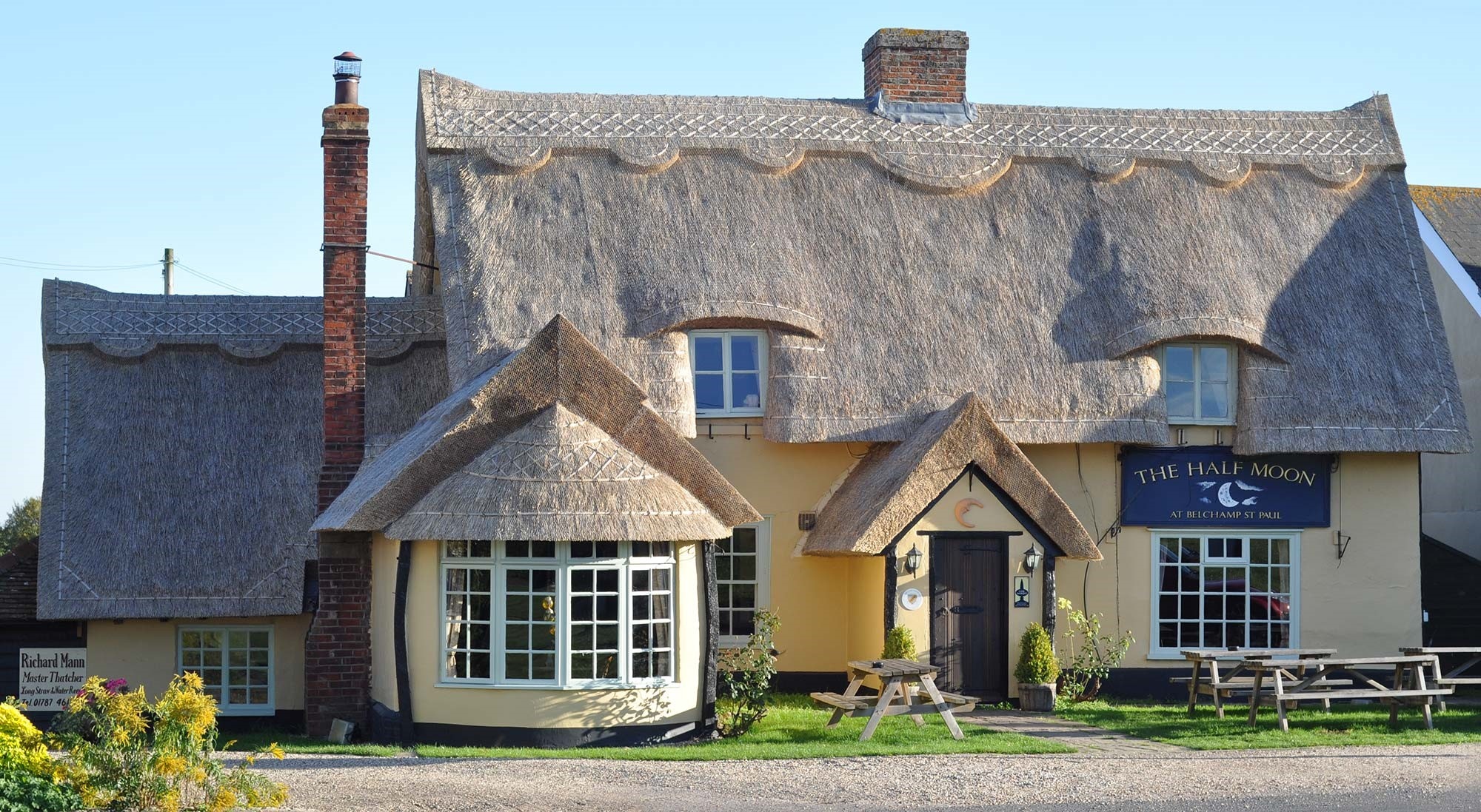 Half Moon, Belchamp St Paul
www.halfmoonbelchamp.co.uk
Telephone – 01787 277402
Where possible all their food is locally sourced and freshly made to enable a delicious and ever changing seasonal menu. In addition the owners are passionate about serving the best local and national real ales. This is a quintessential ancient English Pub, with a stunning thatch, views of the village green, wooden beams and a crackling log fire – as English country pub as it gets!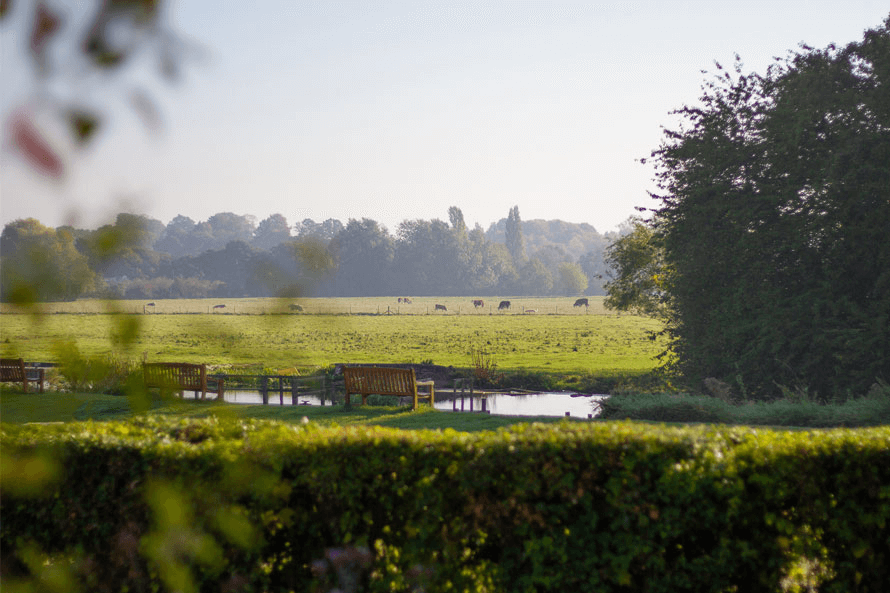 Henny Swan
www.thehennyswan.co.uk
Telephone – 01787 267953
Beautiful 17th Century building in a stunning setting by the River Stour. Modern and relaxed style with three distinct seating areas to choose from internally, including the restaurant, as well as the terrace & garden. 16 beers on tap & extensive wine list. Open at 12 noon daily & normally serve food & drink all day.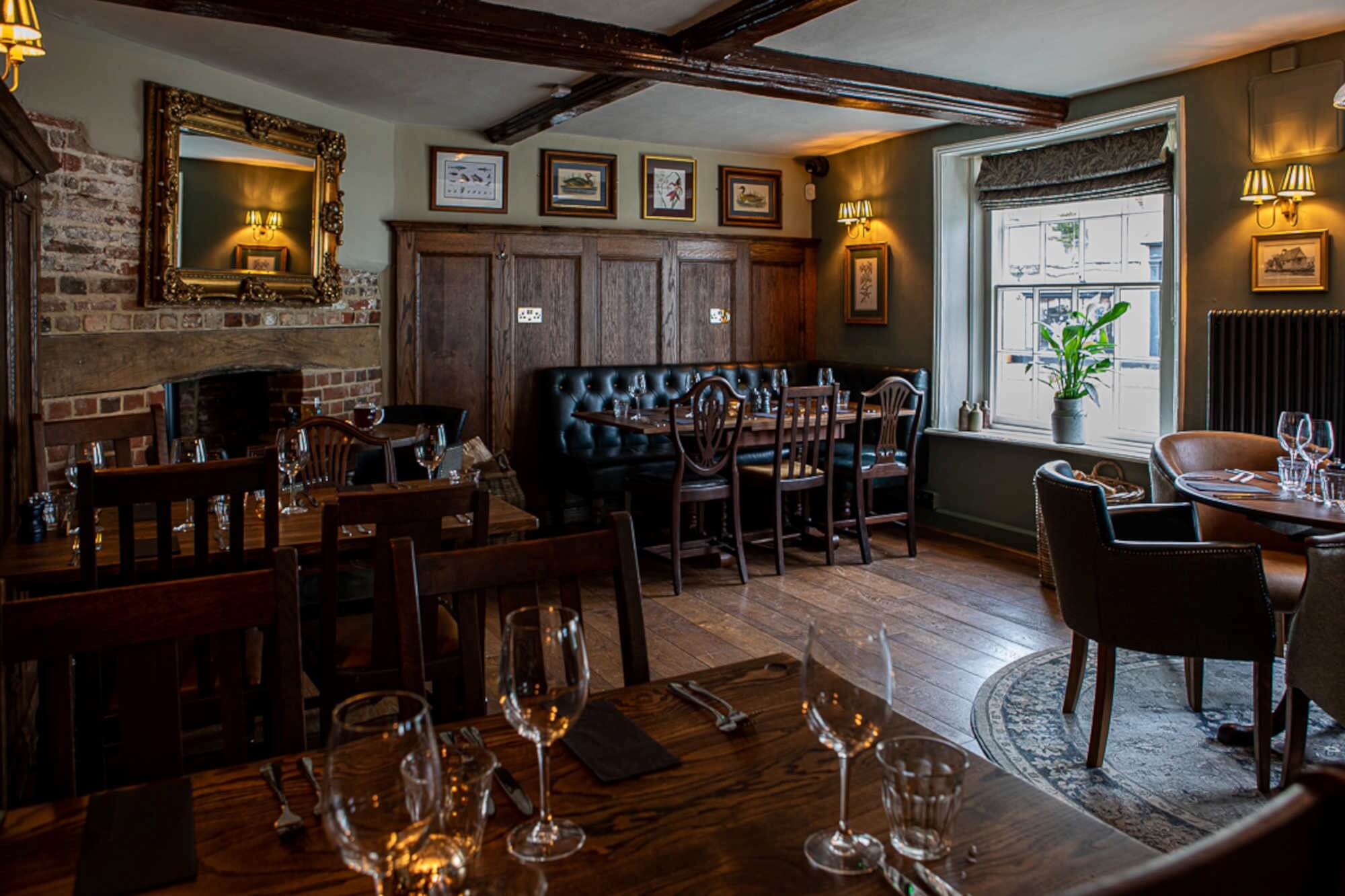 Kings Head, Hadleigh
www.kingsheadhadleigh.com
Telephone – 01473 805794
The Kings Head is a local haven with a commanding position the middle of a picturesque market town. This 16th Century Grade II Listed inn retains its old world charm while providing modern comfort, style and rewarding food. It's a perfect place to enjoy with family and friends.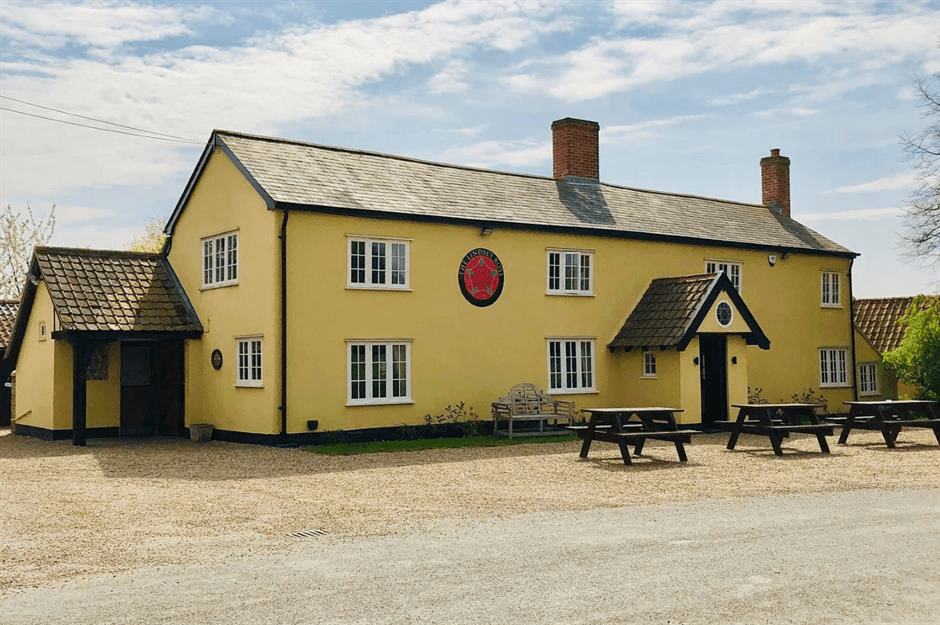 Lindsey Rose, Lindsey
www.thelindseyrose.co.uk
Telephone – 01449 741424
A destination pub that offers great food and a wide selection of beers and wine. Sitting in the middle of the village it is the apex of the community and lays on a bonfire night fireworks display to rival many cities. It has a large garden, generous bar and restaurant and merges country charm with a sophisticated and stylish twist.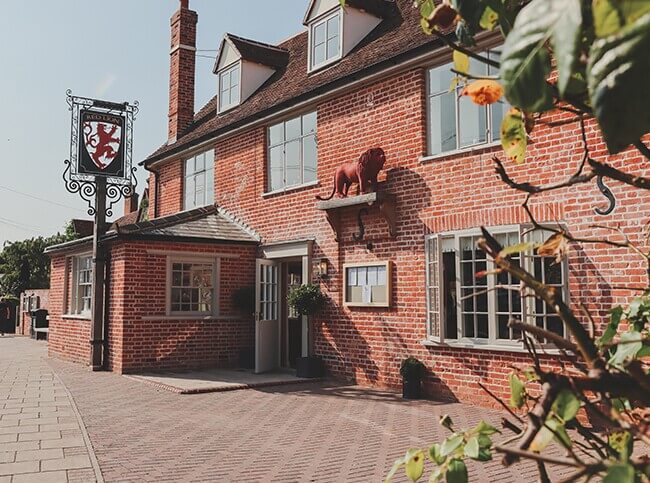 Lion Brasserie, East Bergholt
www.thelioneastbergholt.co.uk
Telephone – 01206 803 406
A luxury brasserie and bar located in the heart of Constable Country set within a large walled garden with manicured lawns and state-of-the-art kitchen. An elegant new bar serves Adnams' finest products, local real ales, and handpicked fine wines and champagnes.
Marlborough, Dedham
www.themarlboroughdedham.co.uk
Telephone – 01206 323250
The Marlborough Head in the village of Dedham opposite the majestic church, offers a variety of seating, with open fires, beautifully carved beams and cosy seating for the colder months. Seating for 200 on the large patio and beer garden are ideal on a sunny day in spring or summer. This interesting 16th century building was once a wool clearing house and sits in the centre of glorious Constable Country.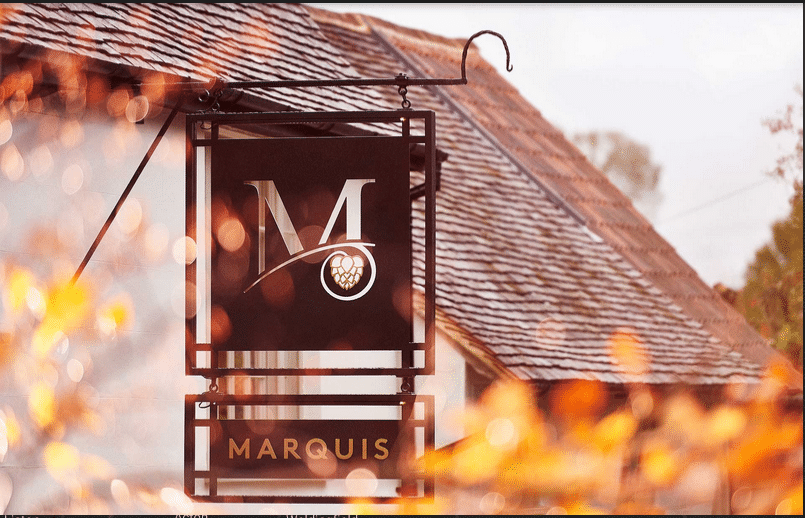 Marquis, Layham
https://themarquissuffolk.co.uk
Telephone – 01473 377977
The Marquis, a luxury hotel, restaurant and bar located just on the edge of the pretty little market town of Hadleigh. Positioned overlooking the hills of the Brett Valley, this establishment has been part of the local scene for centuries but now offering contemporary British food and a comfortable stylish bar, it's the perfect place to visit and sample all that the local farms and producers have to offer in the way of quality fayre.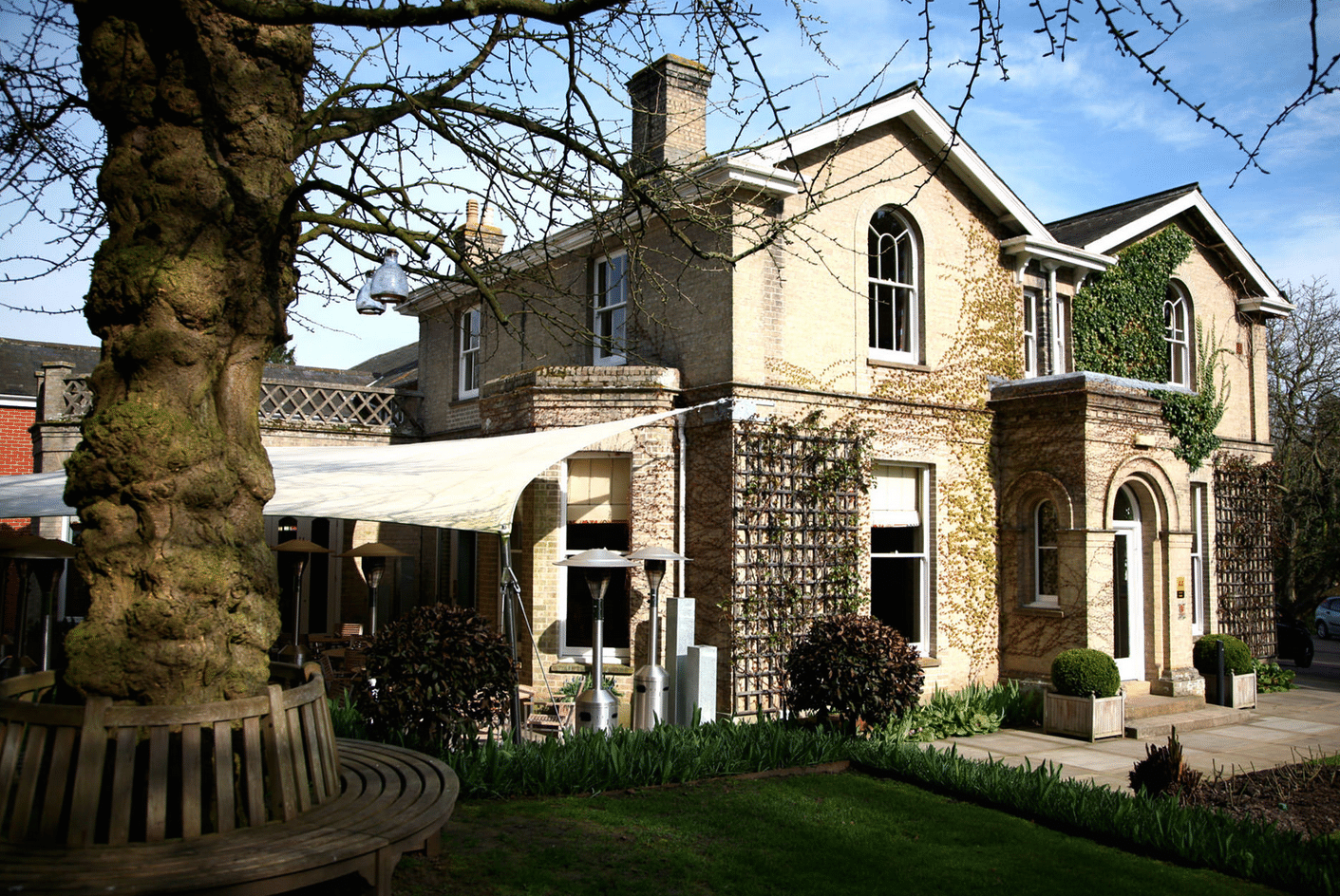 Milsoms, Dedham
milsomhotels.com/milsoms/restaurants
Telephone – 01206 322795
Milsoms (part Le Talbooth family) is set in a beautiful old mansion renovated in a cool contemporary style, this is a glamorous place to see and be seen. They don't take bookings and are open all day, serving delicious food from a vast menu by efficient staff. You can sit inside or outdoors on the terrace with views of the wonderful gardens – weather dependent and whichever takes your fancy!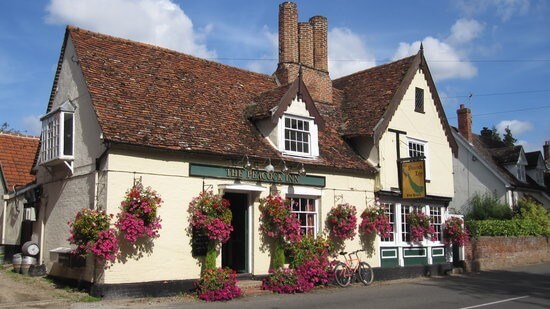 Peacock Inn, Chelsworth
www.thepeacockchelsworth.com
Telephone – 01449 743952
A heavenly 14th Century classic timber-framed inn that has recently been fully renovated. Opposite a 'troll bridge' over the River Brett it is tucked away deep in the heart of beautiful Suffolk countryside. Has a cosy bar and inviting restaurant warmed by a wood burner, and outside is a delightful traditional country garden.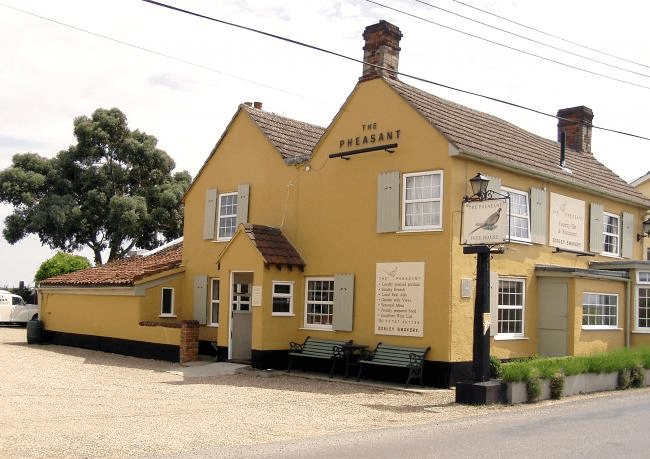 Pheasant, Gestingthorpe
www.thepheasant.net
Telephone – 01787 465010
The Pheasant is located between Halstead and Sudbury in lovely rolling countryside so perfect for starting or finishing walks. A 16th Century building that has been completely renovated over the years since the current owner who bought it in 2007. It is small and cosy with original wooden beams, log burner and rustic covered outdoor dining area, along with a great pub grub and beers.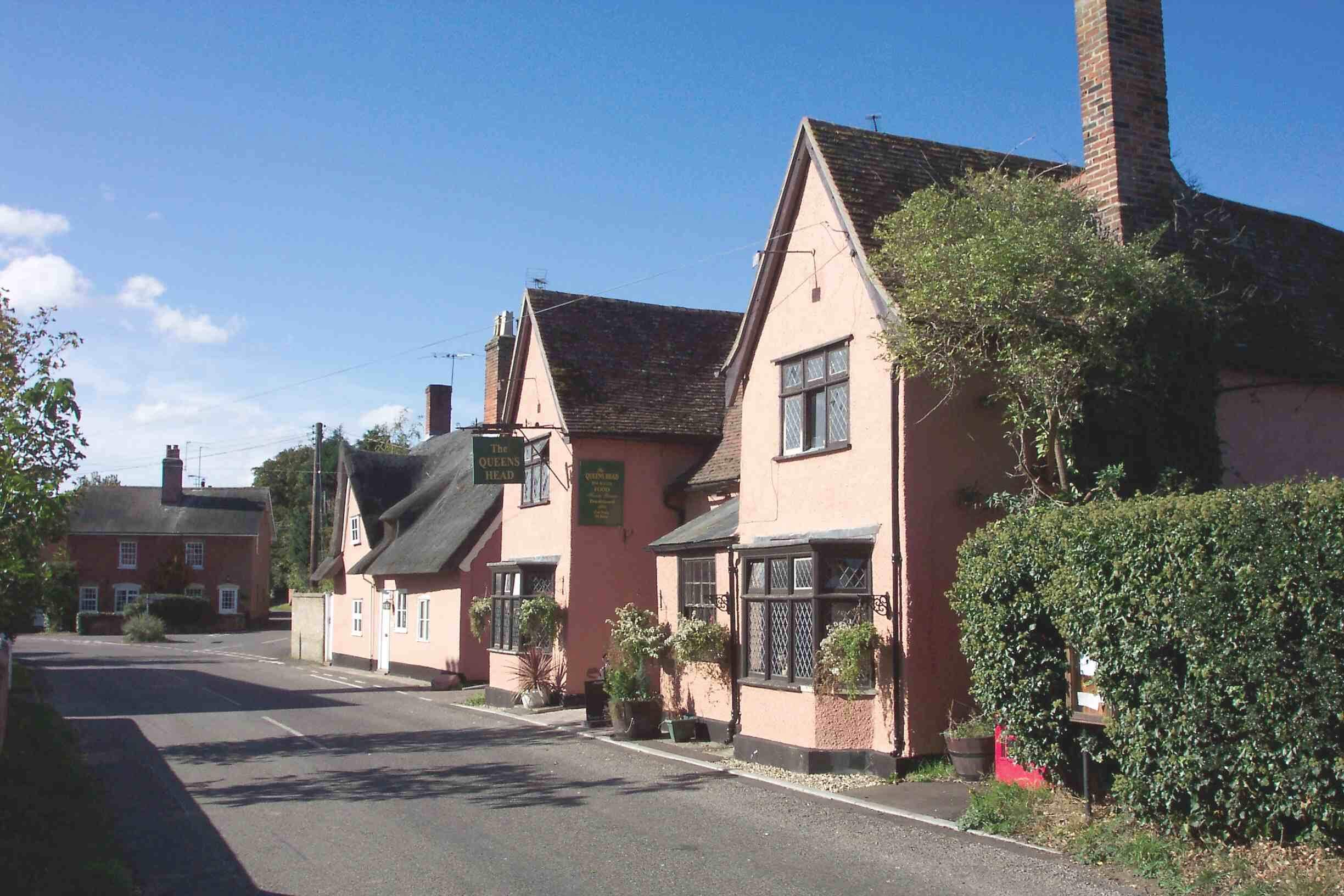 Queens Head, Lower Layham
Telephone – 01473 827789
This is an absolute gem and a proper independent local pub. The landlord brews their own beer and waxes lyrical about it with justified pride. With low lighting and log fires it harks back to a pre-internet time (it doesn't have a website) when the community connected over a pint and all walks of life stopped for a meaningful chinwag. Also does decent food making an event of Sunday Roast.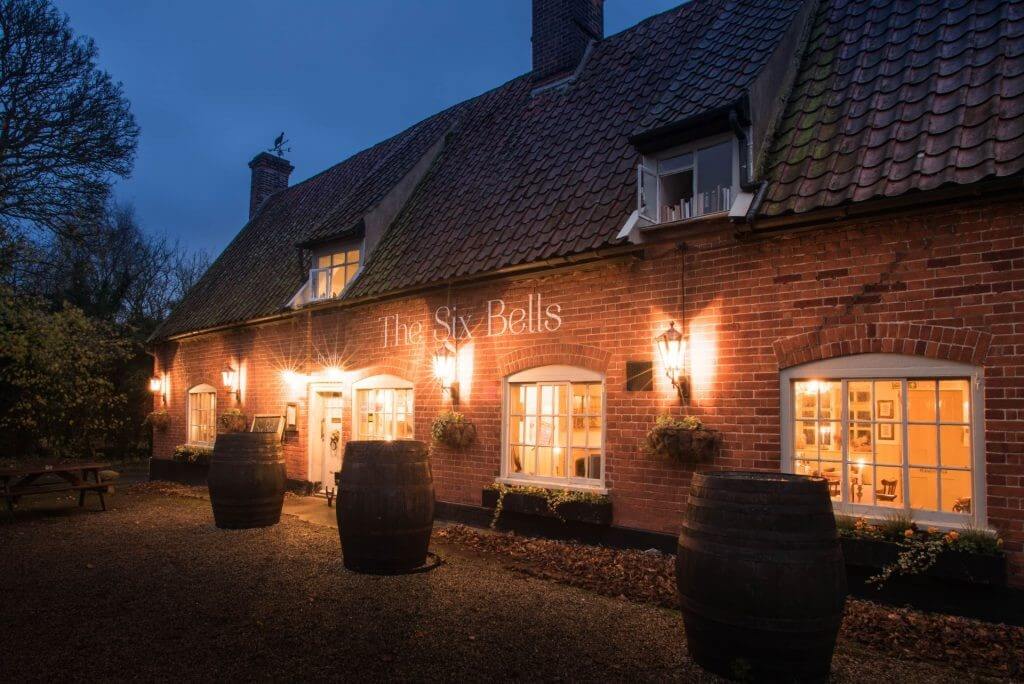 Six Bells, Preston St Mary
www.thesixbellspreston.com
Telephone – 01787 247440
The Six Bells is a wonderful Grade 2 listed pub serving local cask ales and delicious food. It is locally owned and run so is imbedded with a distinctive Suffolk timelessness and old world charm. The walls are adorned with pictures by local artists and the plates with locally produced food which you might glimpse hanging in the game larder behind the bar.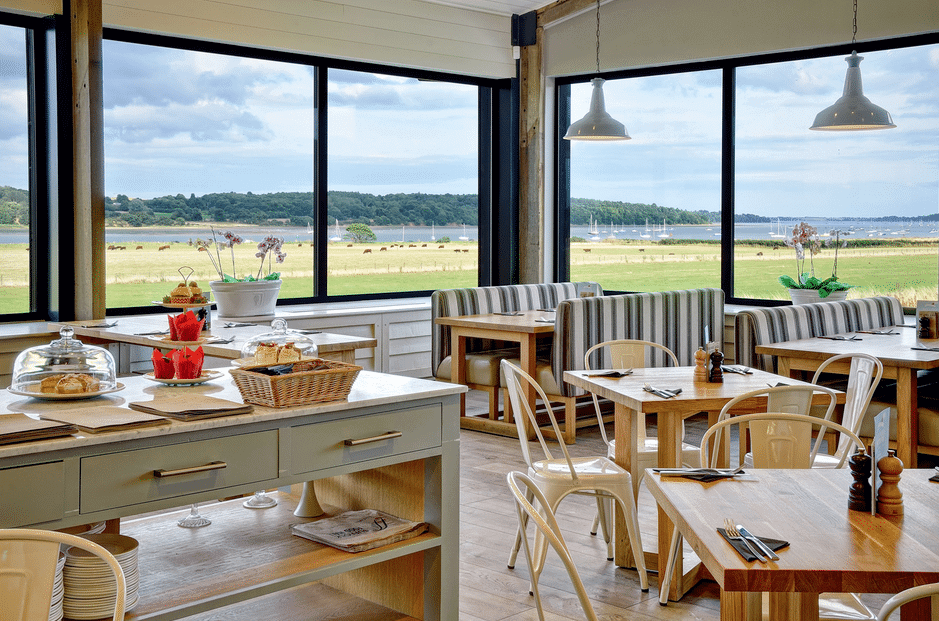 Suffolk Food Hall, Wherstead
www.suffolkfoodhall.co.uk
Telephone – 01473 786 616
There are some places that just make you smile and The Suffolk Food Hall is one of those that also makes your mouth water! This family run emporium of shop and restaurant, ensure that the fantastic food produced locally is on offer and displayed for your delight. A variety of activities at the venue ensure that you are able to buy quality, local food with full provenance and traceability, along with the deliciousness of the produce.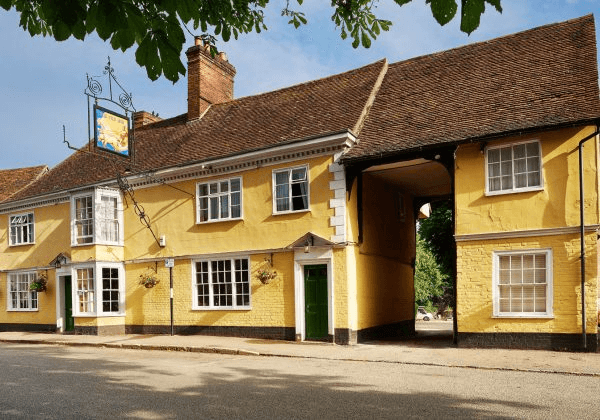 Sun, Dedham
www.thesuninndedham.com
Telephone – 01206 323351
A proper coaching inn with an elm bar, an open beamed dining room, a snug oak panelled lounge all with open fires, exposed timbers, thick beams and meandering floors, it's easy to be cosseted in this ancient inn. Keep warm by the fires, stay cool on the terrace, all year round there's somewhere to unwind. Overlooked by St Mary's Church tower, the garden has its own bar, or simply sit in the village square pondering what route you may take to the cottage that was once Willy Lott's.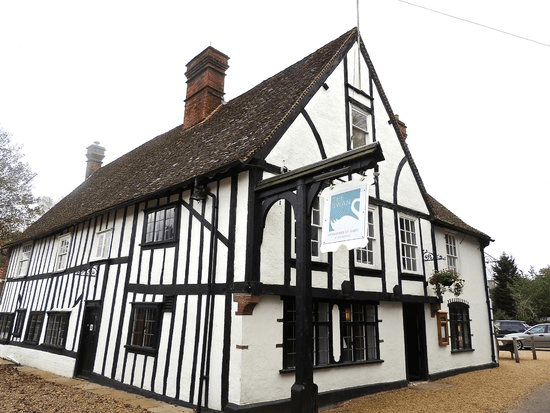 Swan Inn, Stratford St. Mary
www.stratfordswan.com
Telephone – 01787 222353
The village of Stratford St. Mary has a number of pubs to suit your taste. The Swan being popular with its river frontage and stunningly pretty surrounding countryside for walks through the very landscape John Constable knew and loved so well, followed by a sumptuous meal with an excellent choice of beers, ales and wines for you to quench your thirst and satisfy your appetite with dishes sourced from local producers.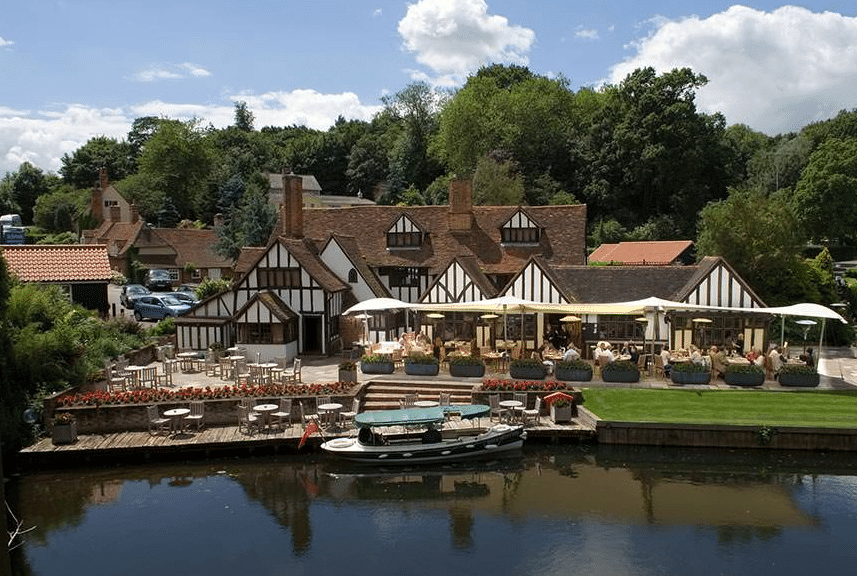 Talbooth, Dedham
www.milsomhotels.com
Telephone – 01206 323150
For premier dining Le Talbooth is the destination for a 5 star culinary experience. Established in 1952 by Gerry Milsom it has an unblemished reputation in a beautiful setting along the River Stour. The terrace and lawns run the length of the river bank with views across Constable Country, making it a memorable treat to be dinning at the very spot world famous artists painted.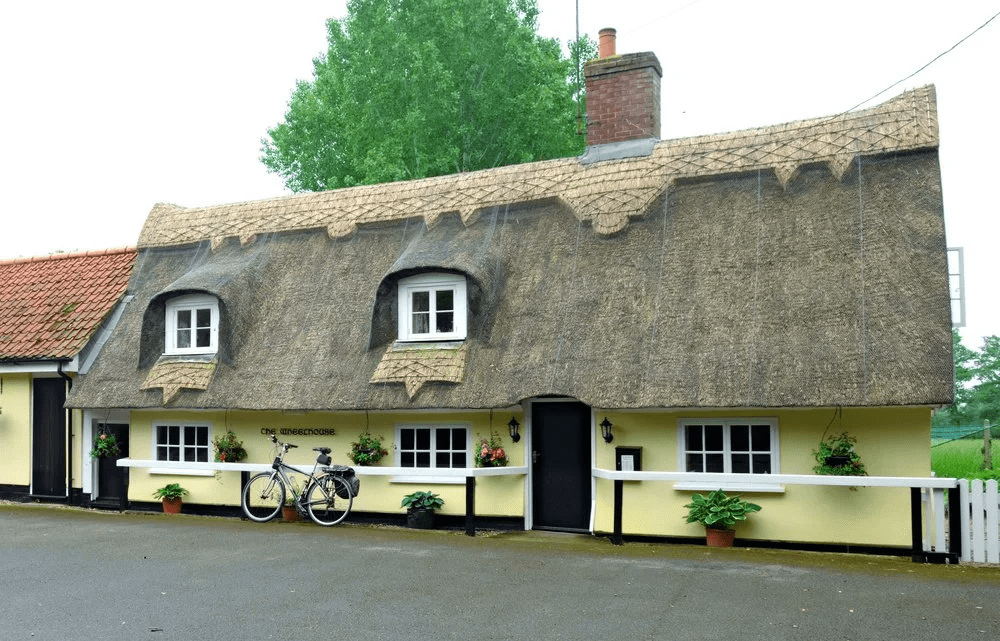 Wheelhouse, Naughton
Telephone – 01449 740496
Many locals love this pub as it is untouched by modern progress remaining unchanged for decades. This is a true old-school country pub that doesn't try and impress with fancy food or in-vogue beers. With a delightful thatch, inviting wood burner, low ceilings, aging & yellowing paint and charming landlady, the Wheelhouse turns back the clock and delivers old fashion Suffolk style.
Anchor Inn, Nayland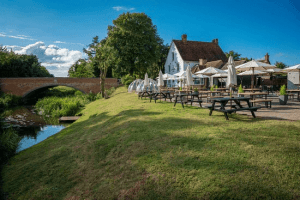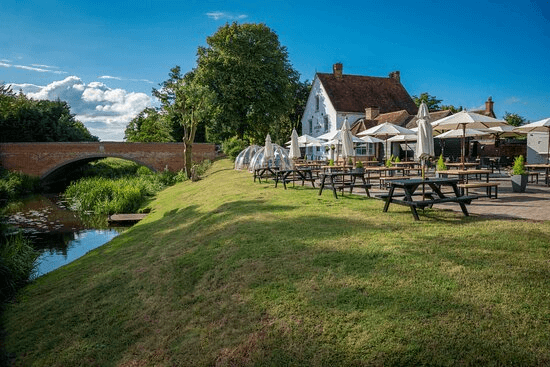 Angel, Stoke-By-Nayland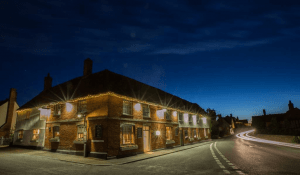 Bell Inn, Kersey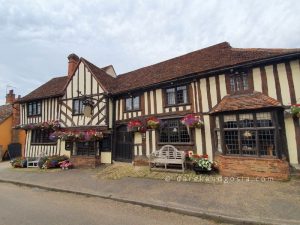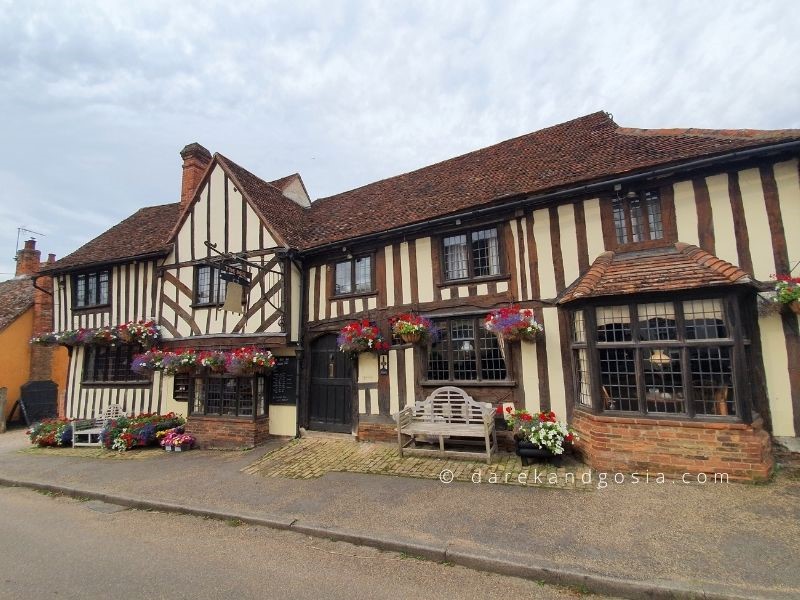 Black Lion, Long Melford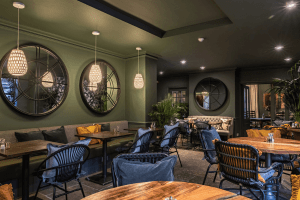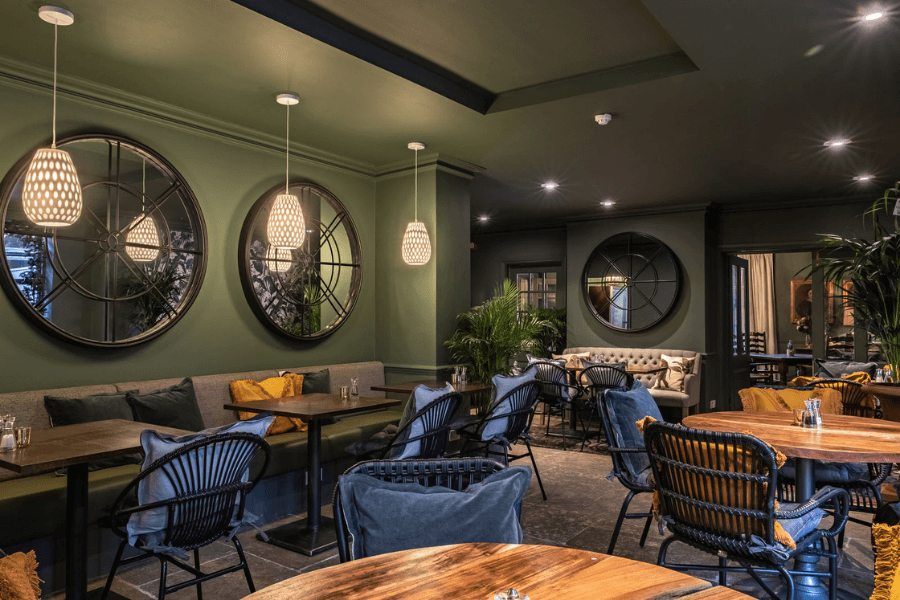 Boathouse Restaurant, Dedham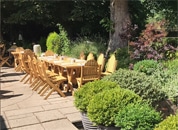 Butt & Oyster, Pin Mill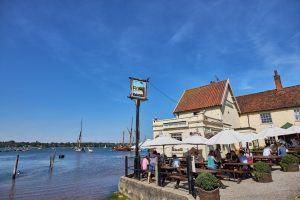 The Cock Inn, Polstead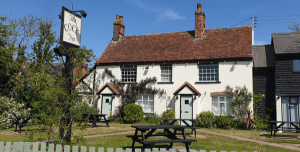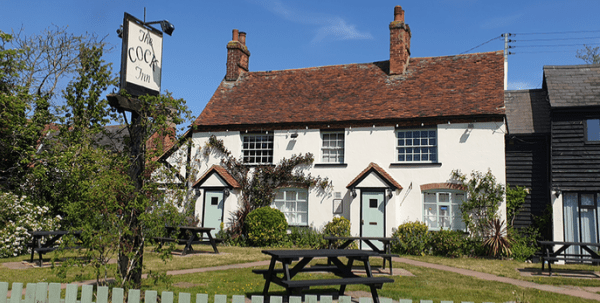 Crown, Bildeston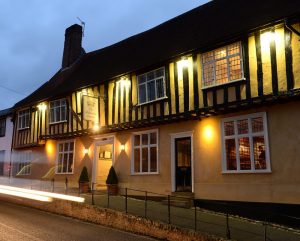 Crown, Stoke-by-Nayland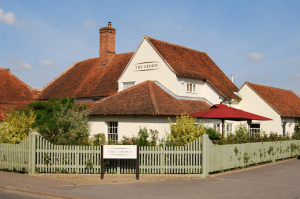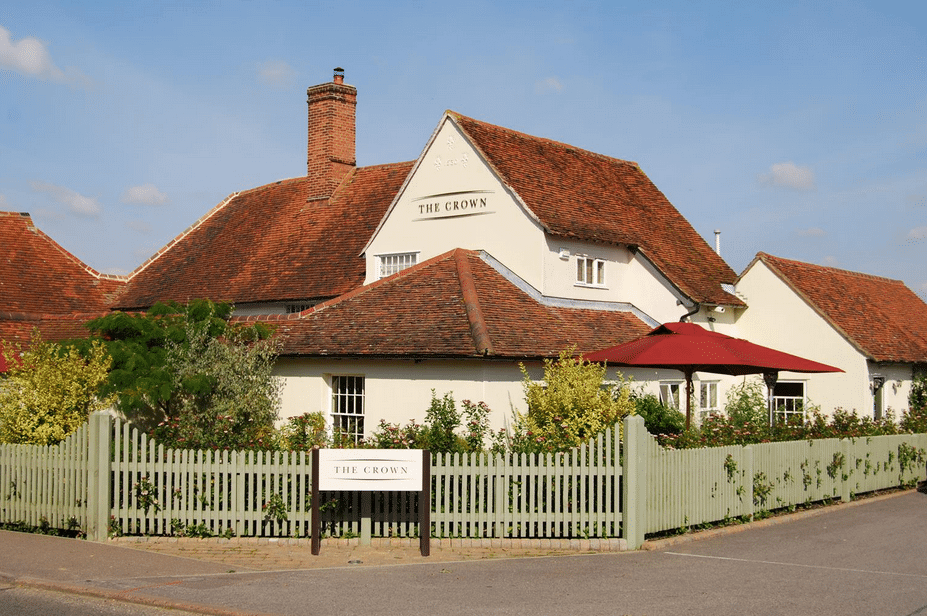 Fox, Bulmer Tye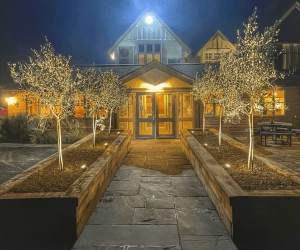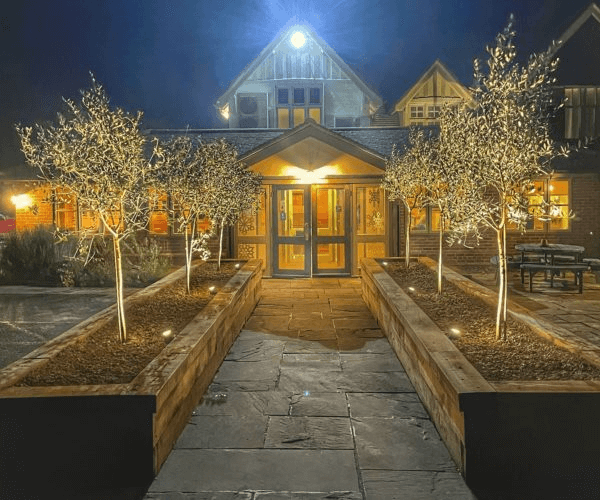 Great House, Lavenham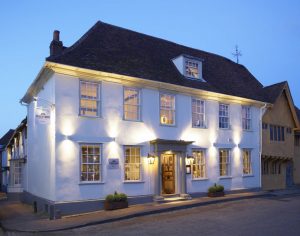 Half Moon, Belchamp St Paul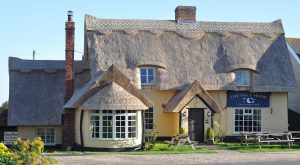 Henny Swan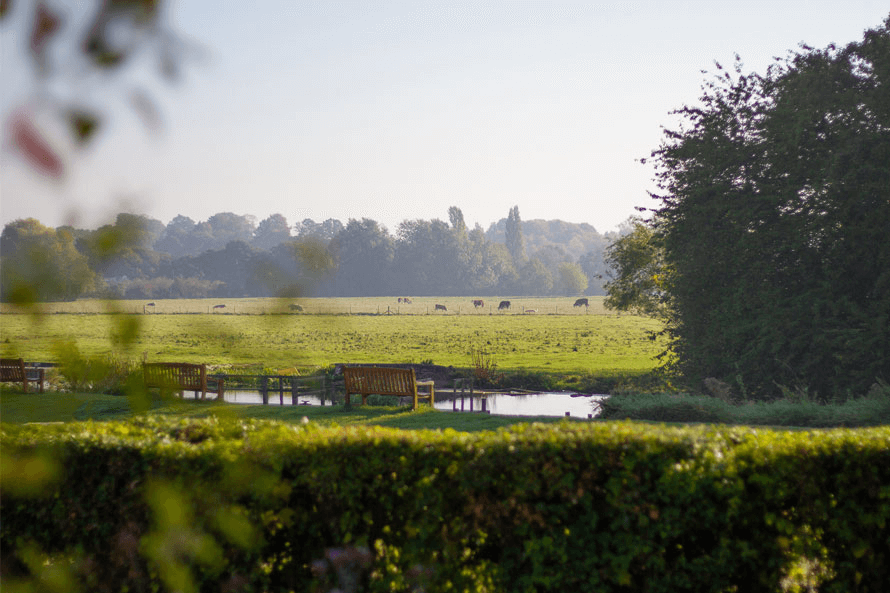 Kings Head, Hadleigh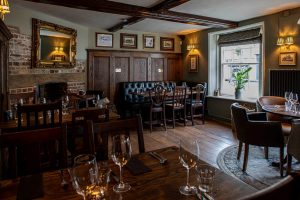 Lindsey Rose, Lindsey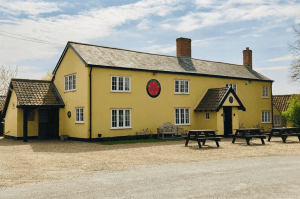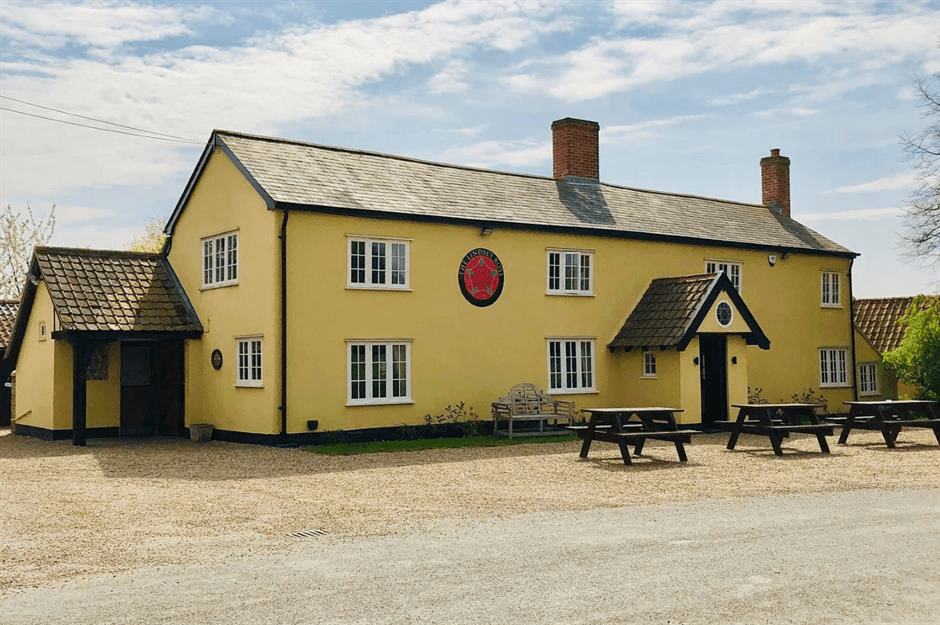 Lion Brasserie, East Bergholt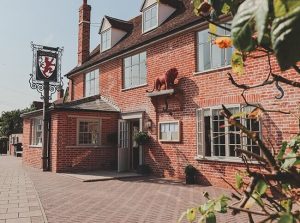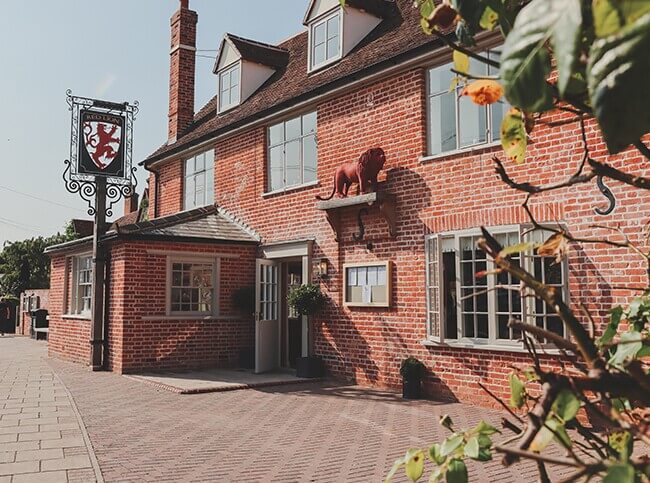 Marlborough, Dedham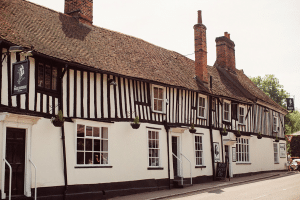 Marquis, Layham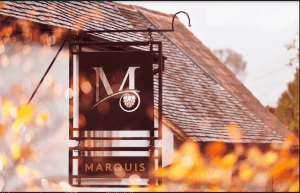 Milsoms, Dedham
Peacock Inn, Chelsworth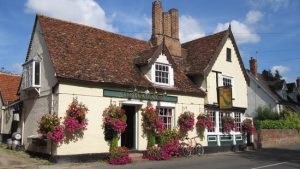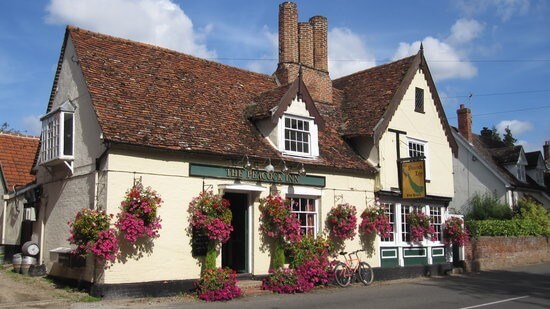 Pheasant, Gestingthorpe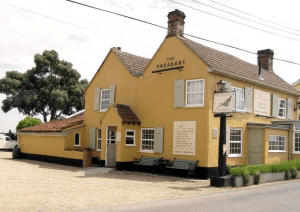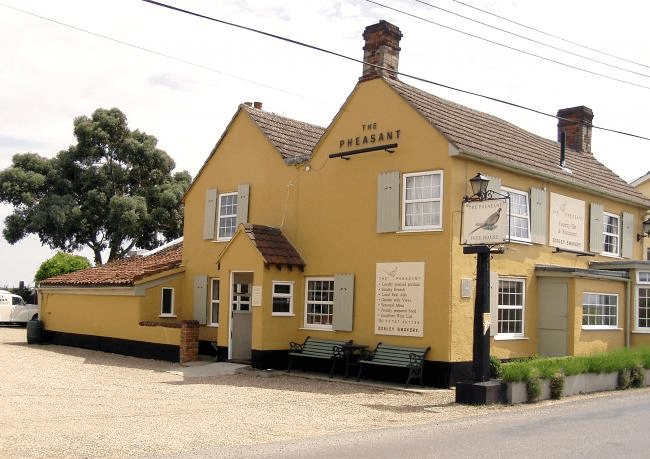 Queens Head, Lower Layham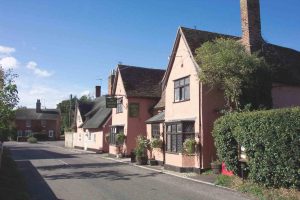 Six Bells, Preston St Mary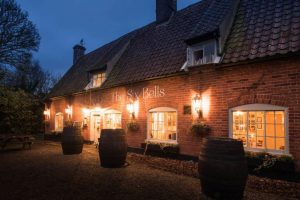 Suffolk Food Hall, Wherstead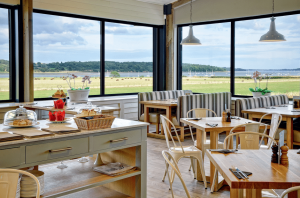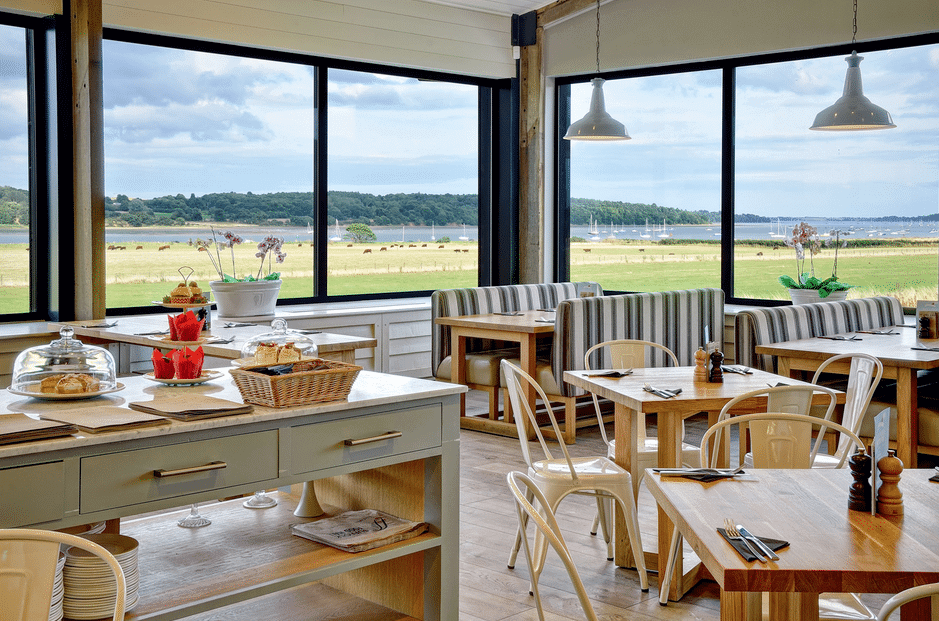 Sun, Dedham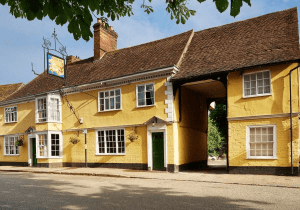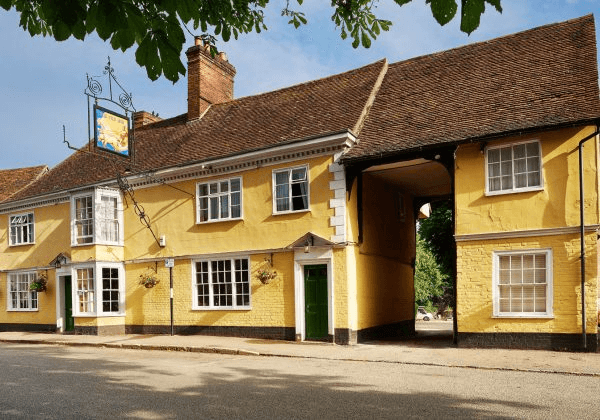 Swan Inn, Stratford St. Mary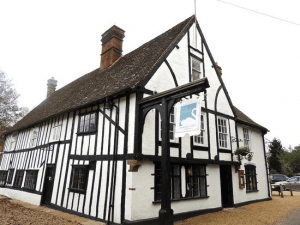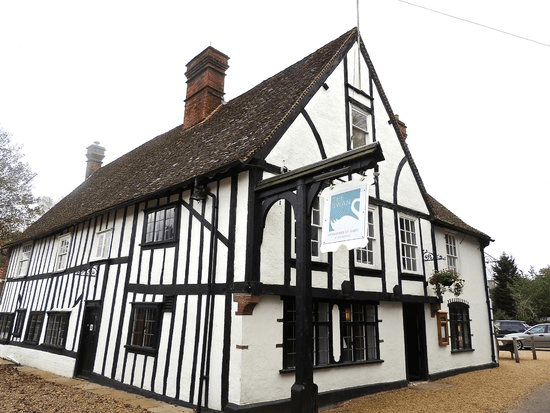 Talbooth, Dedham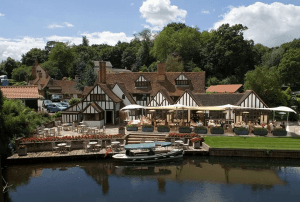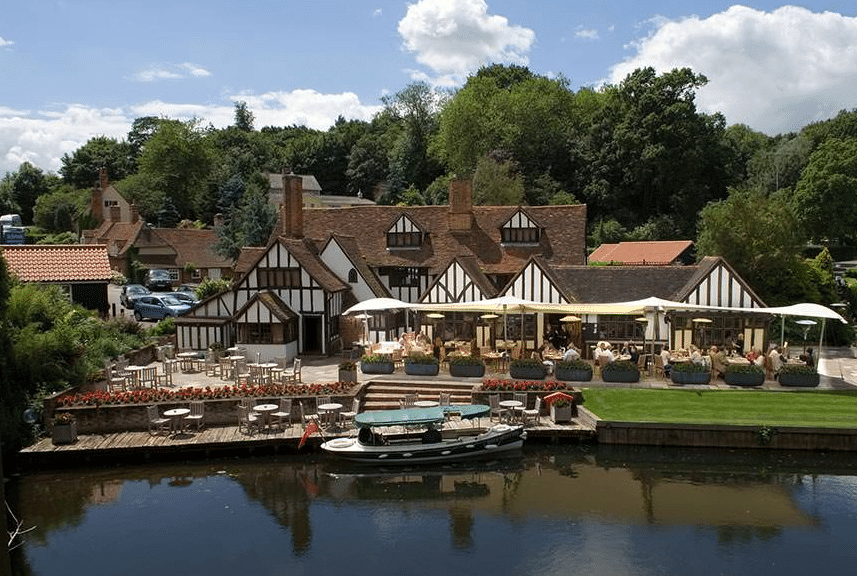 Wheelhouse, Naughton