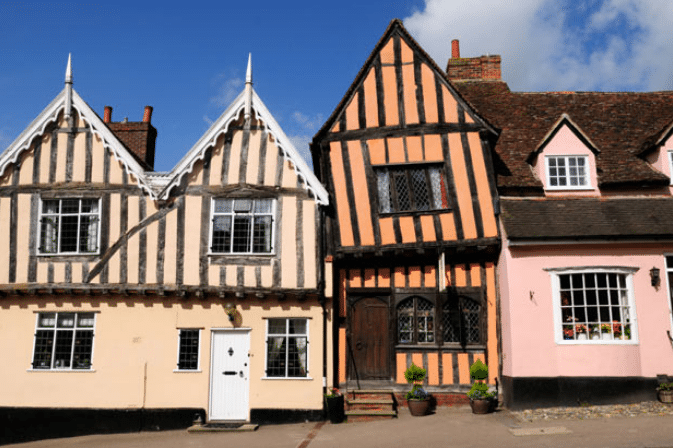 Holidays in Lavenham
An area guide to Lavenham in Suffolk
Lavenham can be found in the heart of rural Suffolk and is widely considered to be one of the most important wool towns in the county. It's known to be the best-preserved medieval village in the UK, which is evident from the beautiful historic timber-framed architecture you'll see as you meander around the town's marketplace. More than 300 buildings are listed, including the St Peter and St Paul Church, and De Vere House.
Stepping now into the present, and Lavenham has a busy community spirit centred around a variety of independent shops, eateries, luxury accommodation, and a fantastic cafe culture too. Ready to come and see it for yourself? Let's dive into how to book your Lavenham holidays this year.
Holiday cottages near Lavenham, Suffolk
Wondering where to stay in Lavenham? There's a wide range of accommodation available, including luxury hotels, but by far the most popular places to stay are Lavenham holiday cottages. These give you more space and privacy than a hotel, and often provide outdoor space too. Some of the best holiday cottages Lavenham has to offer are also dog friendly, so you don't need to leave your beloved four-legged pal at home.
A fantastic example of holiday cottage accommodation is The Tryst, which is one of the oldest properties in the area. As a Grade 1 listed building, constructed from mid-15th Century timber, staying here will feel like you're living in the 'Age of Shakespeare'. The Tryst sleeps 5 guests, has 3 bedrooms, 2 bathrooms, a private garden, and is dog friendly.
Where to Eat in Lavenham
Whether you're looking for traditional local fare, or international cuisine, Lavenham has a wealth of pubs and restaurants to satisfy any gastronome.
The Cockhorse Inn offers the perfect base for relaxed refreshments or a hearty breakfast and a coffee before a walk. If you fancy something stronger, there's a full menu of wines, cocktails and ales available.
Looking for something a little more boutique? Try The Swan at Lavenham Hotel and Spa serving long lunches from their modern brasserie, and offering a fabulous afternoon tea, too. Choose from the courtyard terrace to dinner parties in private catered rooms.
Local activities
You can easily spend the afternoon wandering around this historic wool town, popping into the cafés, pubs and marvelling at the medieval vibe. But Lavenham also makes an ideal base for further exploration in and around Suffolk. You might venture to Long Melford for lunch, or visit the picturesque villages of Clare and Cavendish. Melford Hall is also a National Trust property that makes a fantastic day out.
Book Your Self Catering Lavenham Holidays with Idyllic Cottages
Holiday homes in Lavenham book up fast, especially in peak season. To avoid disappointment, check our availability calendar or contact Idyllic Cottages today on 01787 211722.